Lieutenant John H. Lattin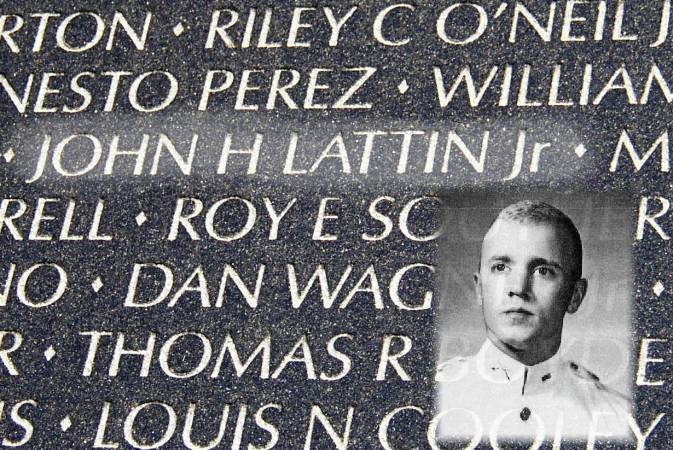 John Lattin served as 2nd Platoon Leader in A/2/12 replacing Lt. Jose Gonzalez on April 14th.
He remained with us for a few months before departing to join an Airborne Long Range Recon Unit. In December he was killed in action while on patrol. John had graduated from the Virginia Military Institute shortly before joining us. A tribute page of former graduates of VMI that were KIA was put together by Howard Lloyd, a friend of John's from the Institute. You can view it by clicking here:
We recently acquired John's entree for him in his graduation class Yearbook at the Virginia Military Institute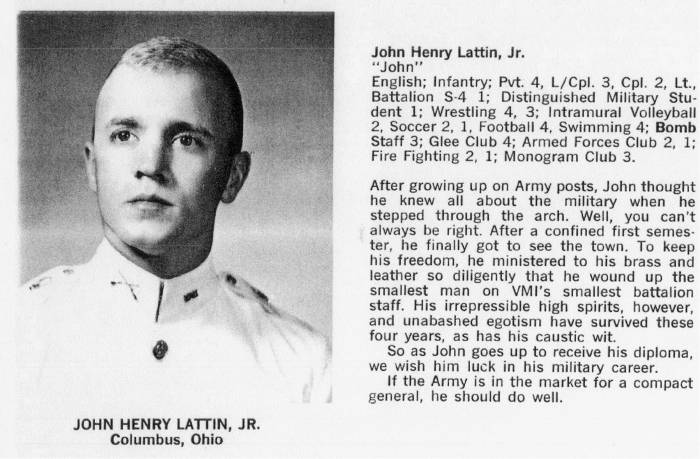 Thanks to Peter Cullin who researched for this piece and Susan Hastings and Juilia Garrett of the Preston Library, VMI who patiently found a way to forward this to us so that we could share it with his Alpha Company Brothers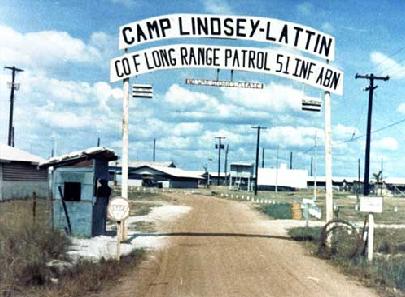 photo courtesy of Al Souza by way of http://www.i-served.com/KIATribute_page2.html
This base camp for F/51st Long Range Patrol (Airborne) Infantry was named in John's honor after his death. He had transferred to Long Range patrol duty in August after leaving A/2/12 and it was during this period that he became a casualty."
John received his Combat Infantryman's Badge while serving in A/2/12 on June 14, 1967.His name was last on the roster that we've only recently located. Click here to view: CIB ROSTER
JOHN H LATTIN JR





1LT - O2 - Army - Regular
23 year old Single, Caucasian, Male
Born on Mar 24, 1944
From COLUMBUS, OHIO
Length of service 1 year.
His tour of duty began on Apr 14, 1967
Casualty was on Dec 15, 1967
in PHUOC LONG, SOUTH VIETNAM
HOSTILE, GROUND CASUALTY
GUN, SMALL ARMS FIRE
Body was recovered
Religion
ROMAN CATHOLIC

Panel 32E - - Line 5