Peter Hill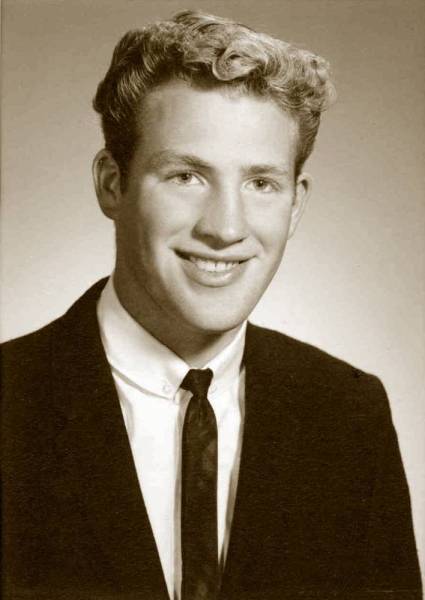 special Thanks to Ron Perry, husband of Peter Hill's
niece for providing this high school yearbook photo
of Peter Hill and Peter Cullen who located him
Peter Cullen sent this memo to me after contacting a buddy of Peter Hill while researching surviving family members of our fallen brothers:
PETE HILL HAD A PREMONITION THAT HE WAS GOING
TO DIE IN FEB.1968, ACCORDING TO A LETTER HE SENT TO HIS GOOD
BUDDY, GARY COOPER, WHO WAS A MARINE IN THE 1ST MARINE
DIVISION, ENGAGED IN DRIVING THE NVA OUT OF THE FORMER
IMPERIAL CITY OF HUE IN FEB.1968. THEY BOTH GREW UP IN
A VILLAGE CALLED FRESHWATER, CALIFORNIA. THEY BOTH LIKED TO
HUNT AND FISH TOGETHER. PETER HILL'S FOLKS ARE DEAD BUT
HE HAS A SISTER WHO LIVES IN OREGON. PETE MARRIED HIS
HIGH SCHOOL SWEETHEART FROM EUREKA HIGH SCHOOL, WHERE THEY MET. PETER
WAS REAL SURPRISED WHEN HE WAS DRAFTED IN 1967
ACCORDING TO HIS BUDDY. GARY VISITS HIS GRAVE
REGULARLY IN EUREKA, CALIFORNIA .I ASKED HIM IF HE HAD ANY
PHOTOS OF HIM , IF PETE'S WIFE LIVES IN THE AREA, AND
IF THEY HAD ANY KIDS. PETE HILL LOOKS LIKE THE TYPICAL
ALL AMERICAN BOY IN HIS HIGH SCHOOL. YEARBOOK PHOTO FROM
1965.