Donald evan,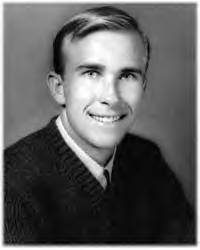 Donald came from Covina, California. Covina is located twenty miles east of Los Angeles. Thirty miles to the west of his home was Riverside International Raceway. The raceway was a hotbed of racing in the 60's and 70's. Nascar raced there as did the Can-Am and Trans Am series. Donald spoke fondly of days racing at that track and vowed to return there someday.
He was twenty one when he was inducted into the Army and after basic training he was selected to be trained as a Medic. Just before being inducted he got married to the love of his life, Bonnie.
After his training he was attached to A/2/12 of the 3rd Brigade, 4th Infantry Division while the unit was still training at Fort Lewis Washington.
He arrived with us in Vietnam in mid October, 1966 and the unit did not engage the enemy in any high intensity action until January 27th, 1967. On that day, while it was sweeping an area in Binh Duong Province, east of Dau Tieng, the Company came up on an enemy bunker complex. As a result of Donald's heroic actions during this engagement he was awarded the Congressional Medal of Honor. He was the first 4th Infantry Division soldier and first Medic to receive the CMH in Vietnam. Doc Evans was sorely missed by his Brothers in the Company. All who came to know Donald understood Doc's unselfish nature and putting other people's safety above his own. For the most recent detailed account of the action that day, click here: The Day of The Battle.
For thirty years most of the men from the Company were unaware of his honor as a CMH recipient. It was not the only honor that was accorded the man. The highest honor occurred stateside in 1986 when Evans Medical Center was named after him at Fort Carson, Colorado. In the hallway of this magnificent Medical Center, which was recently rated as one of the top ten Medical Centers in the country, is this letter written by Doc Evans.
In addition to Evans Medical Center, Donald was also honored with the naming of an auditorium in Fort Sam Houston, where Donald trained to be a medic before he joined us in A/2/12. The building was originally dedicated as Evans Theatre in 1972. It was renovated in 1997 and is now used as auditorium, where graduation ceremonies for all new Medics in the US Army have been held ever since. Donald's brother, Richard attended both dedications, along with Donald's nieces, nephews and of course his Mom. To view the building (you can see the entire interior of the auditorium in panorama by sliding the scroll bar at the bottom of the page)
click here :US Army Medic Evans Auditorium
There are other honors bestowed on Donald Evans. A hospital in Okinawa, Japan was named after him. Ironically, Okinawa was the only stop that Donald and the rest of the original deployment made on their way to Vietnam in September, 1966. Our ship was refueled there and we were allowed to leave the ship and do PT on the dock.
Elsie Evans, Donald's mom dedicated her life to the disadvantaged veterans of her community working as a veteran's advocate. She passed on in May, 2001 . Donald's wife, Bonnie remarried after the loss of Donald. She has one daughter, Kristie.
Donald Evans has inspired many US Army Medics over the last 40 years. His memory has been honored at a number of major US Army installations. The two most important are located at two American bases. The first is the magnificent Evans Hospital at Fort Carson. In 1986 the new base hospital at Fort Carson was named in honor of Donald Evans. If you click here, Donald's History Page you will see some history that the hospital posted online relative to Donald Evans.
Here are some pictures that Richard Evans, Donald's brother, shared with me from that day: