Notice of Randy's loss in Vietnam in his hometown newspaper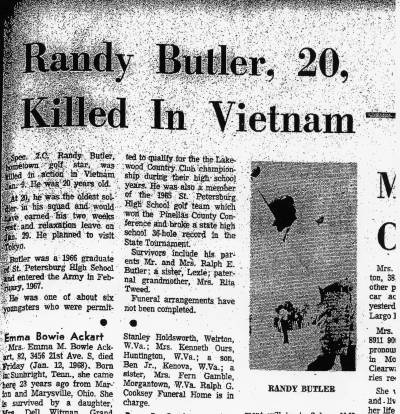 "Spec 4 Randy Butler, hometown golf star, was killed in action in Vietnam January 9th. He was 20 years old. At 20 years old, he was the oldest soldier in his squad and would have earned two weeks rest and relaxation leave on January 29th. He planned on visiting Tokyo.
Butler was a 1966 graduate of St. Petersburg High School and entered the Army in February, 1967.
He was one of about six youngsters who were permitted to qualify for the Lakewood Country Country Club championship during their high school years. He was also a member of the St. Petersburg High School golf team which won the Pinellas County Conference and broke a state high school 36-hole record in the State Tournament.
Survivors include his parents Mr. and Mrs. Ralph E. Butler; a sister, Lexie; paternal grandmother, Mrs. Rita Tweed.
A special thanks to Peter Cullin, Association Researcher, for the news clipping which I was able to use for this page