Russell Blanton's family honored us with photos and letters which gives us an insight to our Fallen Brother's home life before he joined us in our Company. The letters were heartfelt thoughts on the loss of their loved one. In their words you can sense the love they had for their brother, uncle. For most of us who served in A/2/12, it was difficult to understand that for everyone of us who served in Vietnam their were family members back home who spent agonizing days of worry and anguish. For some, their worse fears were realized when they were visited by military personnel with the dreaded message," We regret to inform you...."
Below you can view letters written by Russell Blanton's sister and niece. I would like to share it with you with the realization that Peggy Ramney (Russell's sister) and Carole Hughes (his niece) are as much veterans of A/2/12 as those who actually served n Southeast Asia.
While Chris Comeau had been researching gravesite locations for our fallen Brothers she was able to contact Russell Blanton's sister, Peggy. She asked her for photos and she graciously supplied the collection that is on the image web page. In addition she was inspired to add the following words to share with Russell's friends from his old unit.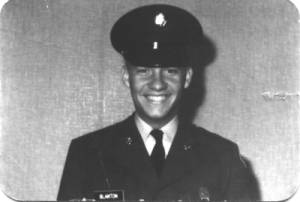 Russell Blanton, A/2/12 1966-67
Dear Chris,
This is the info and photos I was able to gather from family members. It has brought back so many fond memories. We all had different memories of Russell , things that made him special. Everyone who I've talked to is very excited about what you are doing for all the men of the Association.
First, I would like to say for us who knew him, Russell was known as Tom or Tommy. Can't remember how he got the nickname, it just seemed we always knew him as Tommy.
Our Dad was a coalminer. Mom was a homemaker. We were still living in West Virginia on October 14th, 1946, the day when Russell was born. That day was also our Mom's birthday! So you can see he was a special gift right from the start. He was the seventh child of eight.
Tom was 2 years old when we moved to a farm in Ohio. Our Dad still worked the mines, coming home only on weekends. Our Mom was the most resourceful person we ever knew. She had the farm going in no time. There were fields of hay, corn, soybeans and tobacco. In addition there was an apple orchard, peach trees, wild black berries, vegetable garden, etc. Livestock included horses, cows, chickens, pigs, dogs and cats.
Mom taught us to be respectful of everything. She encouraged us to work hard, and be respectful of everything. She admonished us to be the best at whatever we attempted. Young Tom, like the rest of us, learned to work together and then we could play. Tom had Billy (a pony). Billy was stubborn. He would take Tom under the clothesline attempting to knock him off. Tom would hang on. We thought it was funny, Mom didn't. Tom loved bikes was always riding, teaching someone to ride or working on his bike.
Tom loved to hunt and fish. he played baseball in school. Our Dad was a baseball fan and when he was home he would get the neighborhood boys together and organize a game.
They would have shooting matches. Tom was always a good marksman. There was never a shortage of meat. We was never a shortage of deer, squirrel, rabbit, turkey or grouse.
Tom was popular in school. He was also a member of his high school band. Both students and teachers liked him. He was a member of FFA (Future Farmers of America). He raised a steer, that he took to the State Fair one year. After that he was couldn't have it slaughtered. He sold it instead. He couldn't bring himself to eat his 'pet'.
Tom would help neighbors get their hay up. He would give the money he earned to Mom who would save the 50 cent pieces to give to him one day. That day never came.
As times passed the older siblings left home. It left all the responsibilities on the shoulders of Tom and Rita. Tom would get up early to milk the cows, finish the chores then get ready for school. After school he would attend to more chores on the farm.
Tom had a habit during the evening of getting hungry at bedtime and asking for oatmeal or cookies. Mom would make the cookies from scratch. Tom would eat the whole batch with a glass of milk and off to sleep he would go. We would have to clean up the mess. Tom liked Barlis' (his sister in law) fudge. Tom made the best hot cocoa. I was able to get mine to taste like his.
Tom was so special to all of us. He was funny, kind, gentle, and tough when he needed to be. He had compassion for others. Young and old liked him. He was a good role model for his nieces and nephews.
The best of all was knowing God was a part of his life. Our faith has gotten us through some awfully hard times. Tom joined the Army with the hope of making a difference. He was proud to be an American. He felt it was his duty to fight to keep us and hopefully everyone else safe. Our Mom and Dad never really recovered from losing Tom. Losing our brother as we did, broke our hearts. Seeing our parents lose their son was horrible. The abruptness of the loss prevented my Mom from seeing Tom one last time, to see if it was really him, to say her last goodbye. You can't describe or imagine the heartache of a closed casket. Only later did we realize that this scene was being duplicated over and over across the country.
The passage of time has helped us cope with the loss of Tommy.
Peggy B. Ramey,
Russell Blanton's sister
Letter from Russell's niece, Carole Hughes