Richard Benjamin
This was a letter we received from Charles Karrick answering a request that Chris Comeau sent to Richard Benjamin's hometown Baptist church. It was part of our efforts to learn of the burial grounds of the Honor Roll members
July 27, 2002
Christine C. Comeau
372 Brooklawn Avenue
New Bedford, Ma.02745-5129
Dear Mrs. Comeau:
This is in reply to your letter, postmarked June 29, 2002, to the First Baptist Church, Atmore, AL, requesting help in locating the burial place of CPL Richard Benjamin.
I am a member of this church, and my pastor, knowing my background, gave me your letter to see if I might help. I am a member of Atmore Post 7016 of the Veterans of Foreign wars, and I am Vice Commander of Atmore Post 90 of the American Legion.
This morning, I visited CPL Benjamin's gravesite, and I will give you detailed instructions on how to get there. First, let me tell you that Atmore is located exactly on the Alabama-Florida border just north of Pensacola, Florida.
The southernmost portion of Interstate Highway 65 runs from Mobile to Montgomery. The main exit for Atmore is Exit 57, which is Alabama State Highway 21. Follow Hwy 21 south (through the town of Atmore) and cross the state line into Florida. Hwy 21 becomes Main Street in Atmore and then becomes Florida State Hwy 97 once you enter Florida. (Surprise! Even though he was from Atmore, CPL Benjamin is buried in Florida.) The distance from Exit 57 to the Florida State line is about 9 miles.
Beginning at the Florida State line, continue south for 7.3 miles. You will be in the community of Walnut Hill. Ernest Ward Middle School will be on your left at the only four-way intersection in the community. At this intersection, turn right. You will be on County Road 99A (also known as Arthur Brown Road.) From the intersection, continue 2.1 miles until you come to a railroad track. Cross the track and 0ne-tenth of a mile further is Juniper Road. Turn right on Juniper Road. At this turning is a sign that says that this road is the way to the New St. Paul Missionary Baptist Church. Juniper Road will dead-end after one-half mile. The church is located at the end of the road, on the left. CPL Benjamin is buried in a small cemetery at the rear of the church, near the northeast corner. There is an upright stone marker on his grave, which gives his dates of birth and death and the fact that he was a member of A Company, 2nd Battalion, 12th Infantry Regiment.
I hope this fills another blank in your database. I applaud your efforts in supporting your association. We must not let this current generation forget what veterans have done in the past for our country and, as a result, for them also.
Feel free to contact me if you need any more assistance.
Sincerely,
Charles E. Karrick
LTC, U.S. Army, Retired
P.S. In an unusual coincidence, CPL Benjamin's father was being buried this afternoon. When I visited his grave, the plot next to it was being prepared for his father's casket. I've enclosed a copy of his father's obituary.
(Copied from Obituary notice that was forwarded to us from Charles Karrick)
Rosenfield "Mooth" Benjamin
Mr. Rosenfield 'Mooth' Benjamin, 91, of Brewton died Monday, July 22, 2002, at USA Medical Center in Mobile.
He was a native of Conecuh County, a past resident of Walnut Hill and a resident of East Brewton for the past 10 years. A self-employed builder, Mr. Benjamin was a member and deacon of faith temple Church of God in Christ in Atmore and former member of Walnut Hill Church of God in Christ.
He was preceded in death by his first wife, Catherine Benjamin: a daughter, Delores Benjamin and a son Richard Benjamin.
Mr. Benjamin is survived by his wife, Fannie Bell Winds-Benjamin of East Brewton; three daughters, Carrie Lee Woods of Andalusia and Nancy Fountain and Dorothy Peacock, both of Walnut Hill; four step-daughters, Annie Conner and her husband, Willie, of Mobile, Fannie Gandy and Mary Jones, both of Pensacola and Martha Peters of Brewton; a son Robert Benjamin of Pensacola; three step-sons, Elder Johnny Taylor of Bay Minette, Jessie Taylor of Brewton and Thomas Winds of Pensacola; a brother, Kiser Benjamin of Brewton and a host of grandchildren, great-grandchildren and great-great-grandchildren.
Funeral services were held Saturday, July 27 at 11 a.m. at Faith Temple Church of God in Christ in Atmore with Elder Johnny Taylor officiating. Burial was at New St. Paul Cemetery.
Turner Funeral Chapey was in charge of arrangements.
On March 6th, 2003, Chris received a letter from Dorothy Peacock, one of Richard Benjamin's sisters, who learned of us through an obituary that was published on the death of LT Charles Karrick, ret. He was the gentleman who wrote that letter above after making that trip on our behalf to find Richard Benjamin's gravesite. In his obituary notice (click here to view obituary) it was mentioned about his quest for Alpha Association in finding Richard's burial site for his surviving Brothers from the unit. Dorothy contacted the Church where Chris originally wrote and they had our address. This is what she wrote in that letter with a request to hear from men who served with her brother.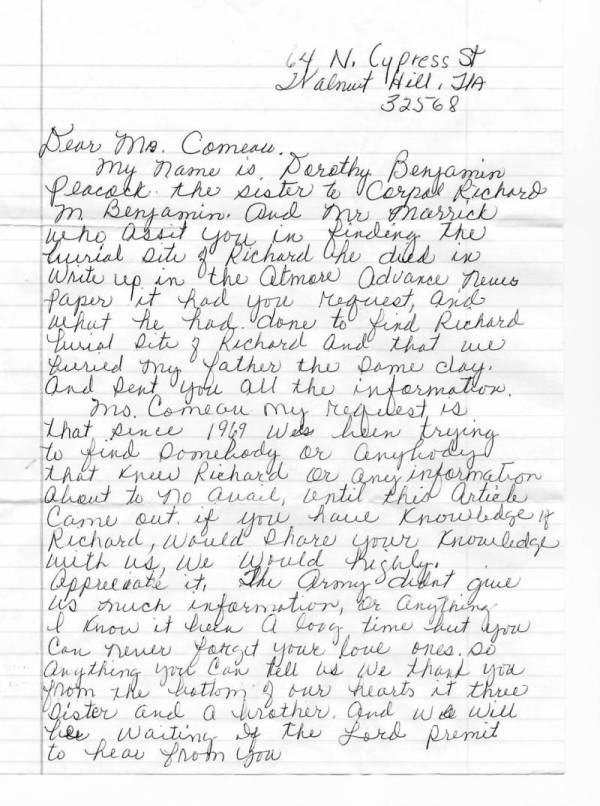 Finally on April 1st we received this letter from Dorothy: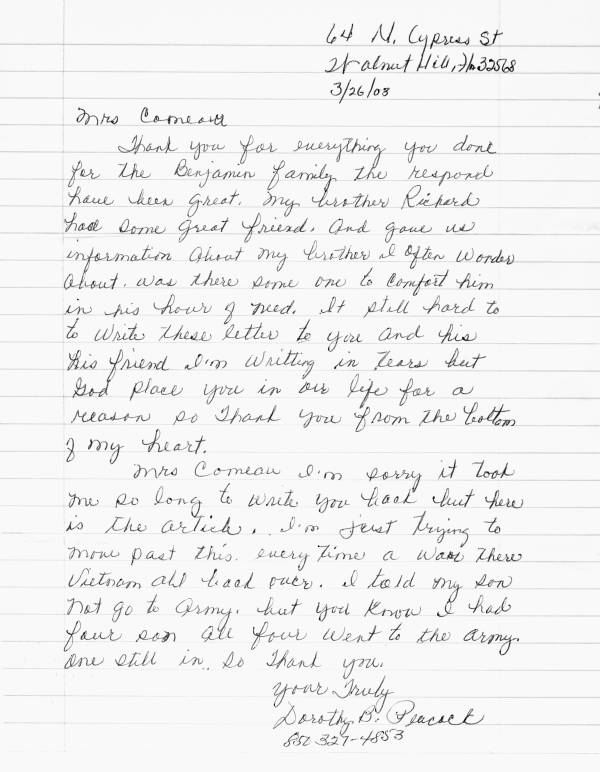 Chris and I spoke to Dorothy on April 3rd, 2003 by telephone and she revealed to us that her brother had some great friends who never forgot him. Being able to hear from so many of Richard's buddies from his old army unit meant so much to her. She is now an associate member of Alpha Association in honor of her brother Richard.